IO-Link Overview
IO-Link is the first standardised IO technology worldwide (IEC 61131-9) for the communication with sensors and also actuators. The powerful point-to-point communication is based on the long established 3-wire sensor and actuator connection without additional requirements regarding the cable material. So, IO-Link is no fieldbus but the further development of the existing, tried-and-tested connection technology for sensors and actuators.
The system architecture could look as follows: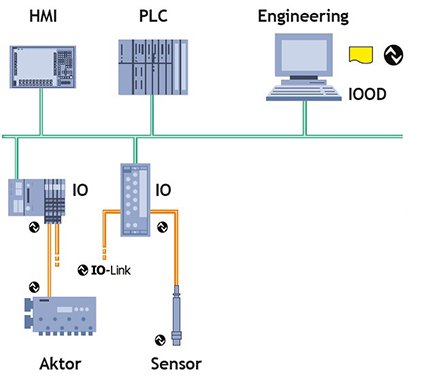 Universal - IO-Link always fits!
IO-Link is fieldbus independent and can be integrated into all fieldbus systems worldwide.
IO-Link relies on standards such as M12, M8 or M5 connectors and three-wire cables.
IO-Link is an international standard according to IEC 61131-9.
IO-Link is universal ... and ... always fits!
Smart - IO-Link eases your work!
IO-Link is functional and enables an extended diagnosis of sensors and actuators or simple and fast parameter setting due to birectional communication.
IO-Link is fast, with its three communication speeds of 4.8 kBaud, 38.4 kBaud and 230.4 kBaud.
IO-Link is small and enables the miniaturisation of "intelligent" sensors and actuators
IO-Link is smart … and … eases your work!
Easy - IO-Link knows what's going on!
IO-Link is reduced; easiest wiring with an unscreened three-wire cable enables bidirectional communication with extensive diagnosis and parameter setting.
IO-Link is automated because parameter data on a server enable the decentralised parameter setting of devices in shortest time.
IO-Link is helpful, because simple remote maintenance of devices is possible via the bidirectional communication.
IO-Link is easy ... and ... knows what's going on!
Read more about IO-Link: IO-Link_System_Description_eng
Or visit the IO-Link website: https://www.io-link.com
ILVC9003 Valve Controller
Sitomatic ILVC9003 is a universal valve controller for automatic control of pneumatic process valves. This means that it can be placed on almost any pneumatic based actuator. Different mounting kits are available to connect the valve controller and actuator.
Our ILVC9003 is equipped with an internal solenoid which can be controlled through the electronics. This way no external solenoids are required for most applications.
The controller can be calibrated by pressing the calibration button on the valve controller. When the controller calibrates it will adjust its values to the valve it is mounted on.
The controller has the following features:
Automatic calibration;
I/O-Link connection;
Linear and rotary measurement available;
Internal solenoid for air control;
Contact free position measurement;
Visual feedback on controller through bright LED;
Mounting kits available to fit on different actuator brands and sizes;
Easy replacement of the electronics.
---
Additional information
---
Manual
The user manual contains important information for installing, operating and maintenance of the controller. Read the manual closely and follow the instructions contained in it. For reference, you may keep a copy of the manual.
The Pneumatic Valve Controller ILVC9003 is not a standalone device. It is meant to be integrated in a larger installation.
Download - Operating manual >>
---
IODD FILE DOWNLOAD
We keep developing the IODD file and extend it which additional features to give even more control and custom specifications to the ILVC9003.
Check our latest IODD file:
Download IODD for ILVC9003 >>
---
Detailed information is available on request.
Call us: +31 (0)594-516670 or fill in the Contact form.

---
---